The purpose of financial models
A financial model is a forecasting tool, usually built in Microsoft Excel, which predicts the financial performance of a business into the future.
Spreadsheet-based financial models vary significantly in complexity and performance, and can have a wide range of purposes, including:
Budgeting and forecasting
Assessing a specific business opportunity (such as an acquisition or a potential contract)
Raising capital (debt or equity)
Valuing a business
Allocating capital
Providing quick assessments of day-to-day challenges
Finanical models by Clarity
We build, upgrade or repair standard three-statement financial models (those that forecast a Profit and Loss, Balance Sheet, and Cash Flow Statement into the future). And we work with specialist partners on more-complex models, including those for project finance and valuations.
The models we build are developed in line with the FAST Standard for Excel spreadsheet modelling.
The FAST Standard was founded over 15 years ago and is used by thousands of financial modellers worldwide. It provides rules that ensure a consistently high quality of financial model – models that are Flexible, Appropriate, Structured and Transparent. Models built to the FAST Standard increase efficiency and reduce the risk of using spreadsheets within critical business processes.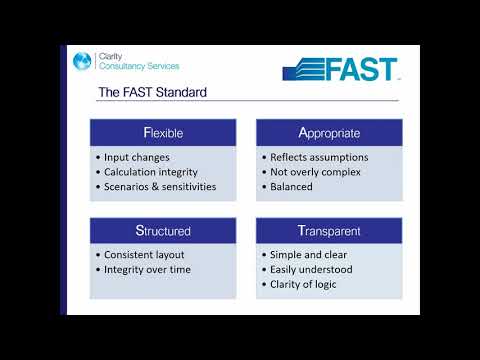 Above all, FAST models are incredibly clear and simple. They allow us to easily validate our model assumptions and calculations. And as a team of modellers we can seamlessly share models for peer review and support.
We love it, our clients love it and we think you'lll love it too!
---
---
In addition to building models to the FAST Standard, we are an accredited training centre for the FAST Standard Level 1 Certificate.